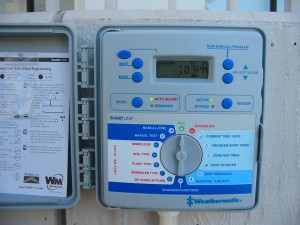 West Coast Grounds Maintenance offers a full range of irrigation services. Whether you're looking to retrofit an existing system or just need a quick repair, we can help. Our experienced staff can handle just about any situation. We're experts in working with commercial irrigation systems and have all the tools to handle the job. We stock commercial grade brand name parts from Rain Bird, Hunter, and Toro. We never use low grade parts or make short-cut repairs. If you're looking for a professional irrigation contractor, you've come to the right place. We offer the following array of services.
Design and Installation
We provide design/build services for our existing customers. If you have a new project that's starting from scratch we can handle it for you.
Irrigation system design
New system installation
System Retrofit and Upgrade
As your landscape matures, you're irrigation system may become inefficient. Plants grow and cover-up sprinklers. Heads may become clogged with mineral deposits. Pipes may start to corrode or break. If you're looking to upgrade or retrofit your system, West Coast can offer our expertise in making your system work right.
Retrofit spray heads with water saving rotating nozzles
Upgrade your existing controller to a new state of the art model
Replace your existing system with a new water saving drip system
Replace corroded pipes
Maintenance and Repairs
Your irrigation system will require plenty of maintenance to keep it working optimally. Heads, controllers, and valves will all need constant adjustments. Eventually something will break. A broken pipe or sprinkler can waste hundreds of gallons of water and lead to plant death.
Broken sprinkler repair
Valve service and repair
PVC and galvanized pipe repairs
Controller repair
Wire tracing and repair
Emergency repairs
New Water Saving Technology
Weather based controllers, rotating nozzles, and rain shut-off devices can all help conserve water. If you're interested in upgrading or retrofitting your system with new water saving technology, give us a call!
Install weather based controllers
Retrofit spray heads with water-saving rotating nozzles
Install rain shut-off devices
Install drip irrigation
Need a quote? Fill out our Quote Request Form on our Contact Us page. Have questions? Give us a call at (800) 339-2102 or email us at info @ wcgminc.com for more information. Find out why many of Southern California's premiere companies trust their landscapes to us. If you're looking for residential irrigation repair services check out lasprinklerrepair.com and ocsprinklerrepair.com.